Presented by The Florida Bar CLE Committee and the Environmental and Land Use Law Section
(in conjunction with The Florida Bar's 2020 Virtual Annual Convention)
Friday, June 19th, 2020
8:30 AM – 12:30 PM (EDT)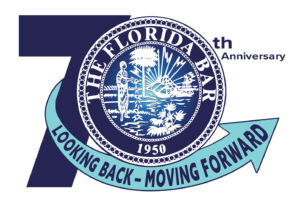 Join us for an exciting seminar providing an update on all recent cases and legislation affecting administrative, environmental, and land use law. You will hear top trending issues including an update on the new Waters of the United States rule from EPA's General Counsel. You will also receive an update on the latest resiliency/sea level rise cases. The proposed new Uniform Rules of Procedure rules will be summarized.
REGISTER BELOW:
Coming Soon! Online Seminar On-Demand and Downloadable Audio Podcast. CD and DVD available for shipping 4-6 weeks following live program.
CLE Credits
CLER Program: General – 4.5, Ethics – 2.0
CERT Program: 4.5 (State and Federal Government and Administrative Practice)
SPEAKERS
William Abrams, St. Johns River Water Management District, Palatka
Janet E. Bowman, The Nature Conservancy, Tallahassee
Hon. Francine M. Ffolkes, Florida Division of Administrative Hearings, Tallahassee
Steven L. Hall, Florida Department of Agriculture and Consumer Services, Tallahassee
Matthew Z. Leopold, U.S. Environmental Protection Agency, Washington, D.C.
Thomas Ruppert, Florida Sea Grant, Gainesville
Hon. Cathy M. Sellers, Florida Division of Administrative Hearings, Tallahassee
Lawrence E. "Larry" Sellers, Jr., Holland & Knight LLP, Tallahassee
Justin G. Wolfe, Department of Environmental Protection, Tallahassee
MODERATORS/PROGRAM CO-CHAIRS/SPECIAL GUESTS
Susan Roeder Martin, Program Chair, South Florida Water Management District, West Palm Beach
Lauren D. Brooks, Program Co-Chair, Baker Donelson, Tallahassee
Jon Harris Maurer, ELULS Chair, Panza, Maurer & Maynard P.A., Tallahassee
Julia D. Lomonico, South Florida Water Management District, West Palm Beach