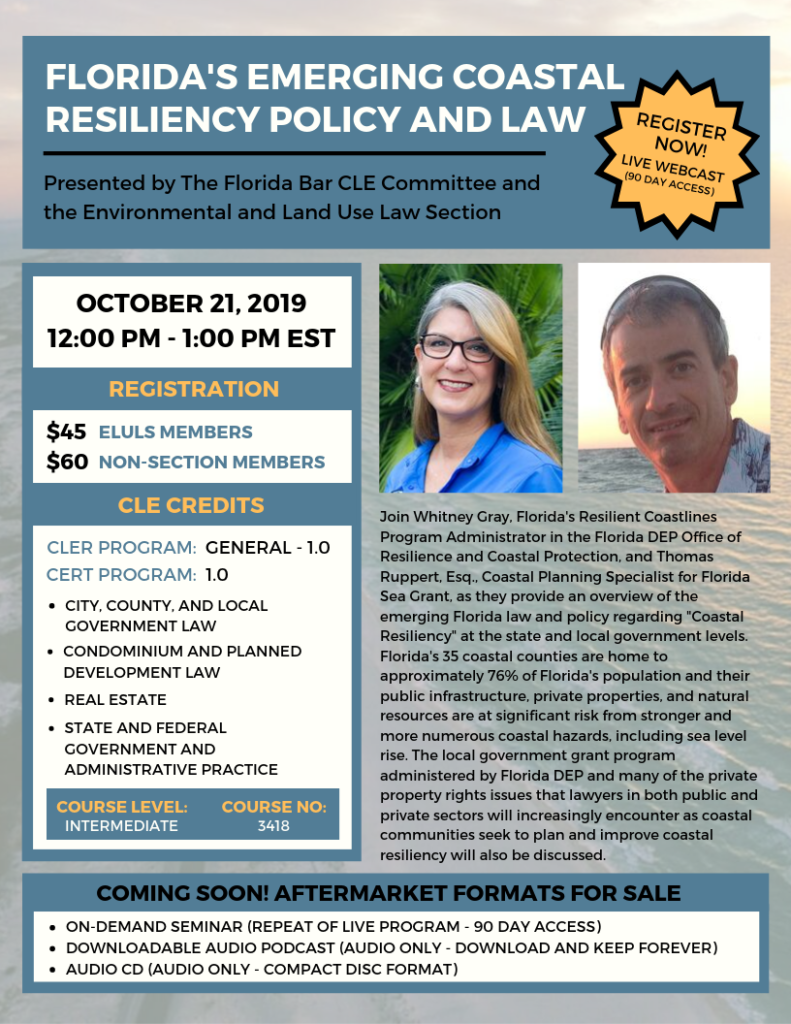 October 21, 2019 Webinar – Register Today!
Presented by The Florida Bar CLE Committee and the Environmental and Land Use Law Section
12:00 PM – 1:00PM EDT
$45 for ELULS Members/ $60 for Non-Section Members
Course Level: Intermediate
Course Number: 3418
Join Whitney Gray, Florida's Resilient Coastlines Program Administrator in the Florida DEP Office of Resilience and Coastal Protection, and Thomas Ruppert, Esq., Coastal Planning Specialist for Florida Sea Grant, as they provide an overview of the emerging Florida law and policy regarding "Coastal Resiliency" at the state and local government levels.
Florida's 35 coastal counties are home to approximately 76% of Florida's population and their public infrastructure, private properties, and natural resources are at significant risk from stronger and more numerous coastal hazards, including sea level rise. The local government grant program administered by Florida DEP and many of the private property rights issues that lawyers in both public and private sectors will increasingly encounter as coastal communities seek to plan and improve coastal resiliency will also be discussed.
CLE Credits
CLER Program: General – 1.0
CERT Program: 1.0
City, County and Local Government Law
Condominium and Planned Development Law
Real Estate
State and Federal Government and Administrative Practice
Coming soon! Aftermarket formats for sale
On-demand Seminar (Repeat of Live Program – 90 day access)
Downloadable audio podcast (Audio only – Download and keep forever)
Audio CD (Audio only – compact disc format)